Tropical Lepidoptera Research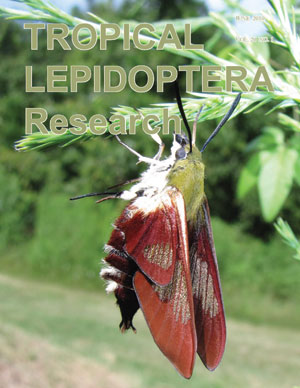 CONTENTS Vol 20-1

1 Canfield & Pierce:

Facultative mimicry? The evolutionary significance of seasonal forms in several Indo-Australian butterflies in the family Pieridae

8 Greeney, Pyrcz, Dyer, Sánchez & Walla: The early stages and natural history of Corades medeba Hewitson, 1850 in eastern Ecuador (Lepidoptera: Nymphalidae: Satyrinae: Pronophilina)

14 Checa, Velasco, Mogollón: New distributional records for nymphalid species (Lepidoptera: Nymphalidae) for the Chocó Region and western Ecuador

19 Hall & Ahrenholz: A new species of Alesa (Riodinidae: Eurybiini) from eastern Ecuador

23 Willmot & Hall: A new species of Dynamine Hübner, [1819] from northwestern Ecuador (Lepidoptera: Nymphalidae: Biblidinae)

28 Matthews & Miller: Notes on the Cacao Plume Moth in Honduras and description of the larvae and pupae (Lepidoptera: Pterophoridae)

35 Salcedo: Evidence of pollen digestion at nocturnal aggregations of Heliconius sara in Costa Rica (Lepidoptera: Nymphalidae)

Scientific notes:

38 Warren, Whelan & Emmel: Notes on mate-locating behavior by the skipper Phocides polybius lilea (Reakirt, [1867]) (Lepidoptera: Hesperiidae: Eudaminae)

41 Austin: Moth community from a northcentral Florida location – a taxonomic checklist

45 Book Reviews

Front cover - Hemaris thysbe (Fabricius) (Sphingidae), Back cover – larva of Ceratonyx satanaria Guenée (Geometridae). Gainesville, FL, USA ©Andrei Sourakov, 2010.